Sometimes you come across a Recipe that you don't want to wait to make!..That's exactly what happened when I came across this one!..I'm not a huge "sweet' eater, But after trying this sweet treat, I'd make it again and again...The Recipe came from RecipeGirl.
Click HERE for the Original Recipe
However, the Recipe itself is kinda lengthy, So I'm going to shorten it up for you and add the pictures.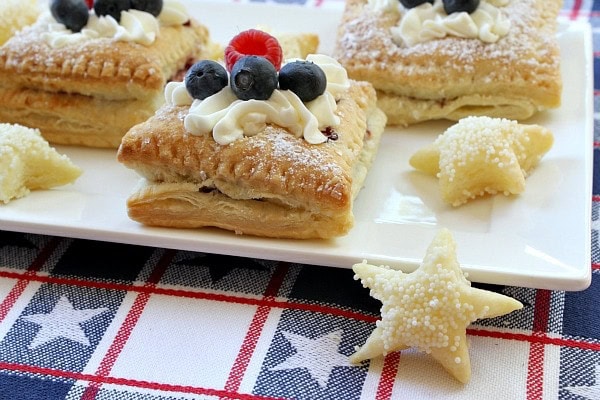 Ok, now that are stomach's are growling! On to the Recipe!
Ingredients:
PASTRY BASE:
1 pkg. (17.3 ounces) Pepperidge Farm® Puff Pastry Sheets, thawed
12 tablespoons raspberry and/or blueberry preserves
chunky, sparkling white sugar (optional)
1 tablespoon powdered sugar
FILLING:
6 ounces cream cheese, at room temperature
2 tablespoons powdered sugar
2/3 cup heavy whipping cream (liquid cream)
TOPPING:
12 fresh raspberries
36 fresh blueberries
or Strawberries (I did Strawberries and Blueberries)

***Puff Pastry Sheets are sold in the Freezer Section***
(I added that because I searched two stores for it and then realized that it was in the Freezer section!)
Preheat Oven to 400 degrees, Line one Baking sheet with Parchment paper

1. Lay the 1st pastry out and cut into 3 strips, (it says to cut them into 9 or 12 squares, I cut mine into 9, they were a bigger size that way) put them on baking sheet.
Do the same with the second pastry layer and then using any shape cookie cutter (I used a circle)
cut out the middle. Lay these aside.


3. Bake at 400 degrees or Until golden brown
4. Prepare the Filling above while you wait for them to bake. Using a mixer, mix the filling till its thick like frosting.
5. Once done baking, take out and let cool for about 10 minutes . Add Filling into the cut out portion on top. (If you don't have a piping bag, use a ziploc baggie,just cut a corner off and it works the same way)

Refrigerate for about 10 minutes..They were REALLY good the next day cold and each time I went into the Refrigerator, one seemed to be missing..lol My Boys loved them!
That's it! Enjoy!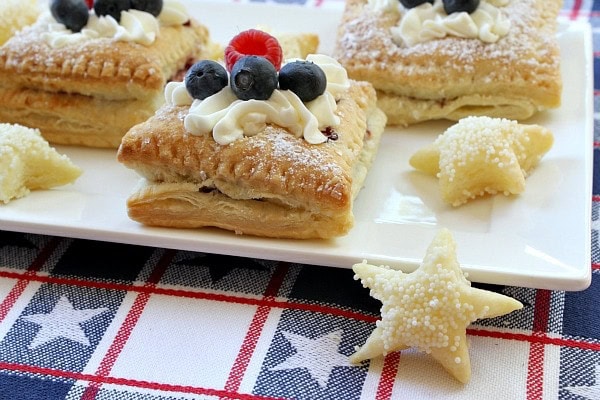 **Pictures originally from Recipe Girl**