First- Happy Father's Day to all the dads out there!..My husband has to work :( but we are spending the day making a great dinner and some desserts for him for when he gets home !
But for now I have another July 4th idea for all you wonderful people..(Off of my Pinterest board)
We do this at school with the kids.So easy!..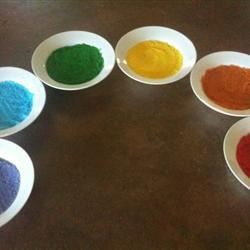 Its Just Sugar and food coloring
So when you mix this above ...You can get this Below!..
Another great idea for 4th of July!..
For the White- I would use either white Bark OR
you could use the Filling from the Pastry Puff Recipe..